Zet de volgende stap in je studie of carrière
Home
Intercultural Sensitivity

Paperback
2021 | ISBN 9789023256885
| 5 | 192 blz.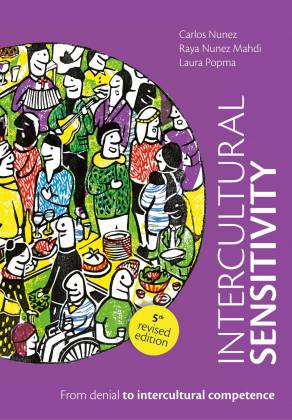 Intercultural Sensitivity
From Denial to Intercultural Competence
C. Nunez, R. Nunez Mahdi, L. Popma
Studentenkorting
Als student krijg je korting bij aankoop van 2 of meer verschillende Nederlandstalige hbo/wo-boeken.
Paperback
2021 | ISBN 9789023256885
| 5 | 192 blz.
Levertijd 5-7 werkdagen
Docentexemplaar
Gratis exemplaar voor docenten
Inkijkexemplaar
Beschrijving
Through internationalisation programmes, millions of students spend part of their studies at universities abroad every year. Lecturer mobility programmes are bringing international lecturers straight to local classrooms. With migration, labour mobility and student mobility, classrooms and lecture halls have grown more culturally diverse than ever before.
Intercultural Sensitivity gives students a head start in working with lecturers and fellow students, and to excel in their future international careers.

Research shows that performance in culturally diverse groups is outstanding. However, productivity in diverse groups is low when cultural differences are regarded as a problem, ignored, and suppressed. Culturally diverse groups excel when differences are recognised and managed as valuable sources of innovation and growth.

Intercultural Sensitivity makes university and college students eager to learn about other cultures. It also makes them aware of the uniqueness of their own cultures, which they may take for granted. And it helps students recognise culture as a valuable resource. This book presents the cultural models by Hoffman, Hall, Kluckhohn, Hofstede, Trompenaars, Bennett, House, Banaji and Greenwald as competencies.
What's new in this 5th, revised edition?
Implicit bias, and what we gain from addressing it, is the new highlight of chapter 8 on Diversity in Teams and Global Leadership. The 5th edition explores new cases from a global context. And all chapters kick off with a clear overview of the learning objectives.
This compact book can easily be studied in a 7- or 8-week term. It is packed with hands-on assignments, cases and role-plays from real life intercultural situations. Cases range from education to health care, marketing and management – any place where students will need to communicate across cultures. In class, on internship, or in the professional field, Intercultural Sensitivity will help students achieve intercultural competence.
Online
On vangorcumstudie.nl teachers can find the following additional materials:
A basic course guide for blocks of seven and eight weeks.
Model keys to all of the assignments in the book.
Basic PowerPoint presentations per chapter.
A selection of multiple choice (test) questions.
Important images from the book.
About the authors
From highly diverse cultural and professional backgrounds, the authors are trainers and lecturers at universities and at universities of applied sciences. They work as independent intercultural trainers, coaches and consultants.
Erratum
Sadly, mistakes were made in the captions of images 4.2 and 4.5 in the first print of this book.
The text below image 4.2 should have read:
"Map of the world with individual (dark red) and collective (light red) countries. Grey: no data."
The text below image 4.5 should have read:
"Map of the world with long-term (dark purple) and short term (light purple) orientation. Grey: no data."
Andere interessante uitgaven