Zet de volgende stap in je studie of carrière
Home
Intercultural Competence in Health Care

Paperback
2020 | ISBN 9789023257806
| 1 | 240 blz.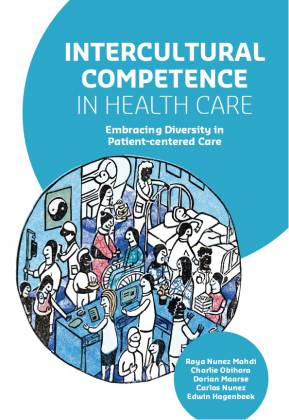 Intercultural Competence in Health Care
Embracing Diversity in Patient-centered Care
Raya Nunez Mahdi, Charlie Obihara, Dorian Maarse, Carlos Nunez, Edwin Hagenbeek
Studentenkorting
Als student krijg je korting bij aankoop van 2 of meer verschillende Nederlandstalige hbo/wo-boeken.
Paperback
2020 | ISBN 9789023257806
| 1 | 240 blz.
Inkijkexemplaar
Beschrijving
"Intercultural Competence in Health Care" is a textbook for today's healthcare professionals facing a growing population of patients with different cultural backgrounds, religions and lifestyles. It is packed with practical cases from real-life intercultural situations in health care. The book aims to give readers new insights from cultural anthropology, medical anthropology and intercultural communication, and contains assignments showing how to apply these in day-to-day intercultural situations. Because good communication is vital in healthcare situations.

Miscommunication due to a lack of intercultural knowledge, skills and attitudes can result in lower quality care for patients and less effective consultations or treatment. Better communication contributes to a good relationship with patients, and their satisfaction leads to enhanced healthcare outcomes. It also contributes to patient safety, improves adherence to treatment and benefits efficiency in health care.

The aim of this book is to acquire intercultural sensitivity and intercultural competence, to work well with patients and co-workers from all cultural backgrounds. It makes us aware of our own cultural values and frame of reference - which we often take so much for granted that we are not aware of their influence. It gives us insight into the norms and values of other cultures, demonstrates how to practice frame of reference shifting, and how we can create cultural synergy by enlarging our own cultural frame of reference.

The authors come from diverse professional backgrounds and from four different countries: Colombia, Indonesia, Nigeria and the Netherlands. Charlie Obihara is a pediatrician and trainer of pediatricians at Elisabeth Hospital in Tilburg, the Netherlands. Together with intercultural communication expert and trainer Dorian Maarse, he trains healthcare professionals. Edwin Hagenbeek, cultural and medical anthropologist, is a lecturer and coordinator of Internationalization at the Institute for Nursing Studies, University of Applied Sciences Utrecht. Raya Nunez Mahdi is a cultural anthropologist, and Carlos Nunez an engineer specialized in culture and decision-making. They are both lecturers and trainers in intercultural communication and authors of the textbooks "Intercultural Sensitivity" and "Interculturele Communicatie".
Erratum
Sadly, a mistake was made in the caption of figure 4.2 in the first print of this book.
The text below image 4.3 should have read:
"Map of the world with individual (dark red) and collective (light red) countries. Grey: no data."